dartClip
Introduction
dartClip is a powerful plain text clipboard extension and manager.
It's not designed for anything but plain text files, though it will actually convert RTF as well but it's one of those times where I had a need and created a solution. Perhaps no-one other would want this but it allows you to keep a selection of entries that can quickly be swapped into the clipboard and kept arranged and managed in files. You could then have a dartClip file for various projects for often used text and the alike, or for me specifically spelling of special words and names.
It runs in the system tray (By the clock on your taskbar) and it's all driven from a right click popup menu, so it's quick and easy to use, and it's all right there.
If you have ideas, let us know at the usual places, the about box is a good and easy way to do that, and obviously if there are any bug's we want to hear about those especially.
Top Features
URL List:
Keep a list of URL's that pass through your Clipboard automatically for launch or copying to the clipboard.
Files:
For set's of entries for projects etc.
History:
A collection of the last 255 text's that have been on your text board.
Keyword Catcher:
Set a keyword and automatically add an entry when it's found on the clipboard
Clipboard Viewer:
View the current text on the clipboard and optionally change it.
Easy to Use:
The application is easy to use and everything you need is quickly to hand.
Dynamic Entries:
Through the use of MojoTags you can actually change the content of an entry on execution
Dynamic Clipboard:
It's possible to set the clipboard to Auto-Change. Just set up what's to change and the clipboard will auto-change within around a second.
Consolodation:
Through the use of the 'Include' MojoTag it's possible to copy a consolodated file to the clipboard, or export it the same way to a file.
Execution:
Run a list of filenames, (With or without parameters) or just execute the contents of the entry.
Export:
Export entries to text files. This will run and change the MojoTags too. This works with MojoTags too!
Managers:
A host of managers for the special features, all using a similiar interface to be easy to learn and quick to use
Quick Start Guide:
It comes with a quick start help file with how to get going quickly, as well as a little more detailed information for other functionality (WIP)
Sort Into Categories:
Now you can add categories to your entries and they will be displayed in sub-menu's to each of the commands, (i.e. Copy To, Edit Etc..). To further sort your entries into managable menus.
Updates
Downloads
Screen-Shots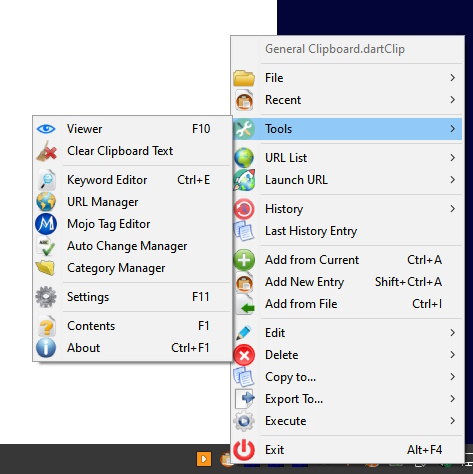 The Main Interface (Pop-Up Menu)
Displaying the right click menu from the System Tray.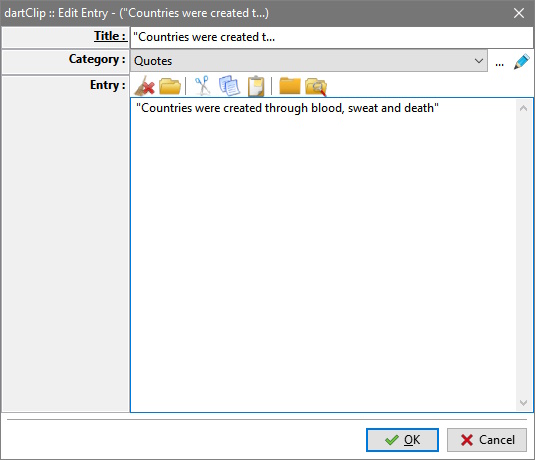 The Entry Editor
When Adding/Editing/Importing Entries this dialog allows you to edit the entry.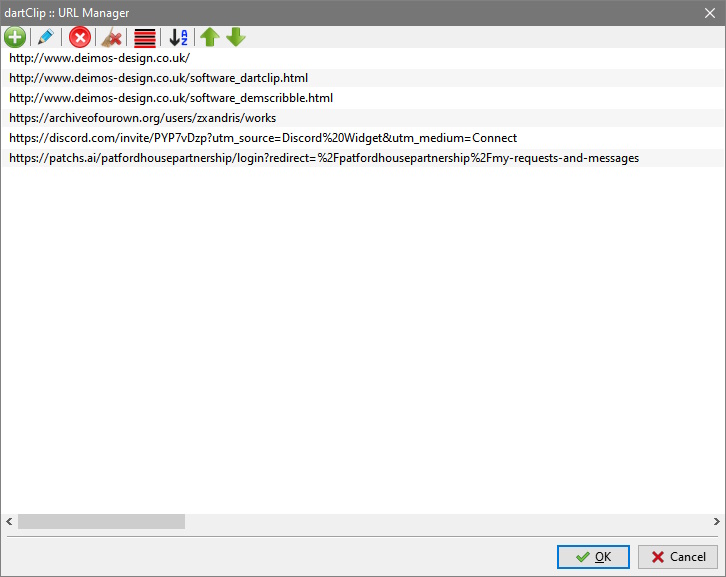 The URL Manager
An example of one of the manager dialogues.