dartToDo - Simple
Introduction
Created for those who just want to maintain a very simple task list, or the alike of a shopping list. This application is tray resident, and you can either Right click for the menu, Left to Toggle the Viewer, or Middle click to add a task. Alternatively you can add, edit, delete etc from the to do list viewer form.
If you want a better task manager we'd suggest demNTL, which has far more powerful Task handling, this is literally just to maintain a simple list of to do's for various projects, or topics.
It's super easy to use, and adding tasks is very easy.
Top Features
Super Simple and Easy to Use
System Tray Resident to quickly add new tasks
Task View Window for quick and simple at a glance viewing of your to-do's
Optionally the task viewer will remain on top of other windows
Most Recently Used Menu
To-Do are very simple to view, edit, manage and navigate.
The entire ethos of this application is simple, no fluff (Typical of a Dart Range Product)
Customizable
Updates
Downloads
Screenshots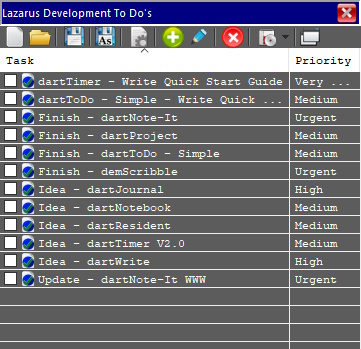 The Task/To-Do Viewer Window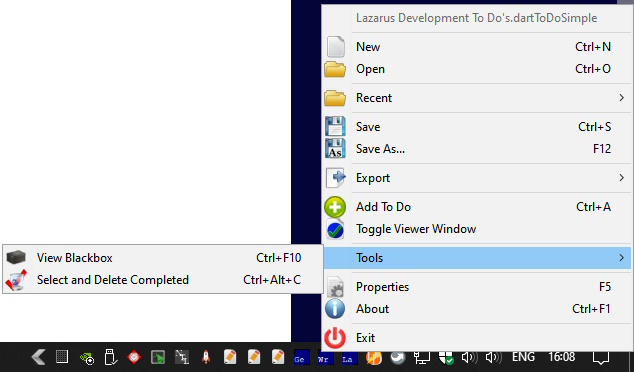 The Right Click PopUp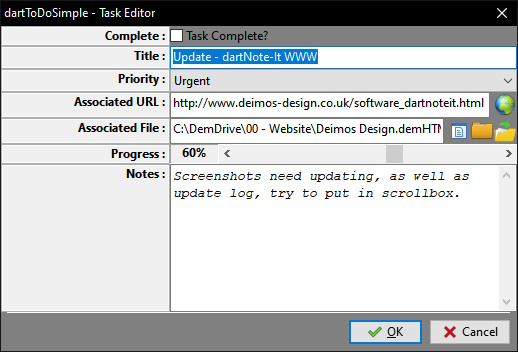 Editing a To-Do